The Martha Stewart Wine Club provides its members with a variety of wines from around the world, delivered to your home. Known for her love of the finer things, you can expect nothing less from the wines Martha hand-picks herself. All of the Martha Stewart Wine Club wines are high quality, having won more than 700 awards (more on that below!).
There are two different plans available through the Martha Stewart Wine Club. You can choose to have six bottles delivered every six weeks or 12 bottles every eight weeks. According to the website, the six-bottle subscription is recommended for couples and the 12-bottle subscription for couples who enjoy entertaining.
The signup process is straightforward. There are often promotions available, too. A recent example is where you can purchase a case of wine, 12 bottles, at only $7.49 per bottle plus free shipping. To start the process, select your choice of red, white, or mixed wines.
Then, enter information like your email, billing, and shipping address. Lastly, verify your birthday to confirm you're 21 years or older, and click to review your order.
For this particular order, the total comes to $89.88 for a full case of wine (12 bottles).
And that's the whole onboarding process! Simple as that. No quizzes to sift through, just the single question of your varietal preference, and you're on your way to your first wine delivery from the Martha Stewart Wine Club.
It's worth mentioning that this simplicity could be viewed as a downside. Without building a picture of your taste profile, you may not be offered wines based on what you like. And just because Martha likes a particular bottle, it doesn't mean you will.
The Martha Stewart Wine Club charges a flat rate per bottle, depending on your chosen subscription.
If you opt for the half-case wine club, receiving six bottles of wine every six weeks, you'll pay $8.33 per bottle or $49.98 per box. For the full-case wine club, with 12 bottles delivered every eight weeks, you'll pay $7.49 per bottle or $89.88 per box.
Despite having Martha Stewart's prestige, her wine club prices are incredibly affordable, especially considering the cost of high-quality wines in local stores.
Another bonus – any orders that include six or more bottles of wine will automatically ship for free. While this might seem like a small detail, this can add up over time, considering some other wine clubs can charge over $10 per case.
I always like seeing a simply priced subscription service that doesn't charge any introductory or renewal fees. You just pay the same price per bottle every time –unless you decide to add on some of the a la carte options.
Another great feature of the Martha Stewart Wine Club is that you gain access to some of the wine packs Martha has picked herself for special occasions. The packs come in all different sizes, three, six, or 12 bottles each, and there are 25 options to choose from.
Here's one wine pack that stood out for me:
You also have the option to purchase individual bottles, although they tend to cost a bit more. You can pick from Seasonal Sips:
Or sort through the wines by varietal (the type of grape):
Martha Stewart Wine Club Wine Selection
The introductory case comes with 12 bottles of wine, the majority of which are award-winning. I chose to take a closer look at the mixed plan to cover a wider variety of wines.
The mixed plan introductory case comes with six red wines, five white wines, and one rosé. Here's a selection of our top three picks.
First in line is the 2019 Tercius Vinho Branco Tejo, from Southern Portugal, which won a silver award in the Sommelier Challenge International Wine Competition in 2020.
Next up, the Brotello Vino Rosato from the Castellani Family Winery in Italy.
Lastly, the 2018 L'Arca Salice Salentino D.O.C. from Negroamaro and Malvasia Nera in the southeastern Puglia region, also known as the heel of the boot, in Italy. This wine won the Platinum award in the Sommelier Challenge International Wine Competition of 2020.
Sending A Martha Stewart Wine Box As a Gift
There are multiple gifting options to choose from. The original gift packages come advertised as the Year of Wine, in which you divide the gift into either three or four shipments throughout the year.
You can choose to send someone a half-case – six bottles of wine – every 17 weeks at $12.50 per bottle, or every 13 weeks at $11.67 per bottle.
Otherwise, you can send the standard half-case gift every six weeks, or a full case every eight weeks.
Here's a quick summary of Martha Stewart Wine Club's pricing and who it's best for:
| | |
| --- | --- |
| Pricing | From $7.49 per bottle |
| Ideal for | Anyone looking for affordable wine options, anyone looking for a unique gift idea, someone looking to try worldwide flavors |
| Shipping costs | Free with any order over six bottles |
| Special deals | Get free shipping on orders with 6+ bottles |
Martha Stewart Wine Club Delivery
While the website asks you to allow one week for delivery following your order, standard orders are usually processed in one business day, with orders being delivered 2-3 business days after.
When your order leaves the fulfillment center, you receive an email notification with accurate tracking information. You can also track your shipment through your account on the Martha Stewart Wine Club website.
You can ship your delivery to your home or office location. You can also opt to pick up your order from a qualifying FedEx, Walgreens, Duane Reade, Albertsons, or Safeway in some areas.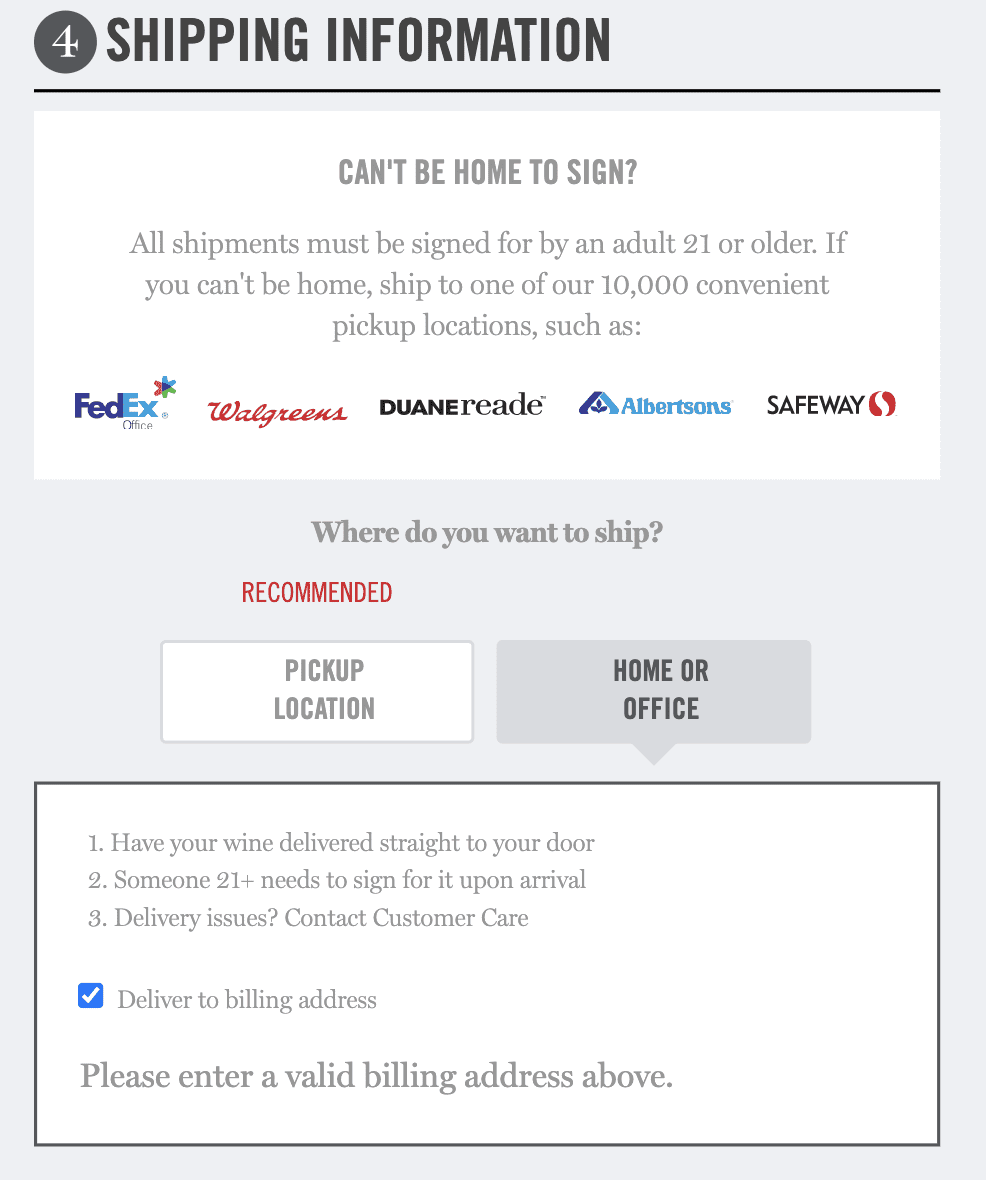 Martha Stewart Wine Club Delivery Locations
Currently, the Martha Stewart Wine Club delivers across the United States, except the following eleven states:
Alabama

Alaska

Arkansas

Delaware

Hawaii

Kentucky

Oklahoma

Mississippi

Rhode Island

South Dakota

Utah
Martha Stewart Wine Club Customer Service
The Martha Stewart Wine Club customer support team is available via multiple channels.
You can access information regarding your shipment by signing into your account. Additional information, including FAQ, can also be accessed through the main website. The site also has a feedback form to quickly provide your contact information and a summary of your experience.
If you require additional assistance, you can reach out to the customer support team via email, phone, or live chat Monday through Friday from 9:00 am to 8:00 pm EST. Live support is responsive in less than a minute when reached during regular business hours.
How to Cancel Martha Stewart Wine Club
To cancel your Martha Stewart Wine Club membership, you'll have to contact the customer support team via telephone during regular business hours, Monday through Friday, 9:00 am to 8:00 pm EST.
Firstleaf is similar to many other wine subscription services, in that you're required to fill out a short survey on your preferences before signing up. It's an excellent feature for anyone who has particular tastes, as we describe in our expert Firstleaf review.
While its introductory box is comparable to the Martha Stewart Wine Club's six-bottle subscription, the boxes following the first one are much higher in price. You can anticipate a $90 price tag for six wines, nearly $15 per bottle.
Naked Wines is known as the #1 wine club in America. However, it's not your "typical" wine club subscription, but more of a personalized wine buying service, with a monthly price. Over 200,000 wine drinkers are currently members of Naked Wines, all of whom actively participate in reviewing the wines on offer.
For as little as $40 per month, you gain access to independent winemakers and their wines, at up to a 60% discount. Each monthly payment goes towards your wine purchases, which you can set up to be monthly, bimonthly, or quarterly. You can learn more in this in-depth Naked Wines review.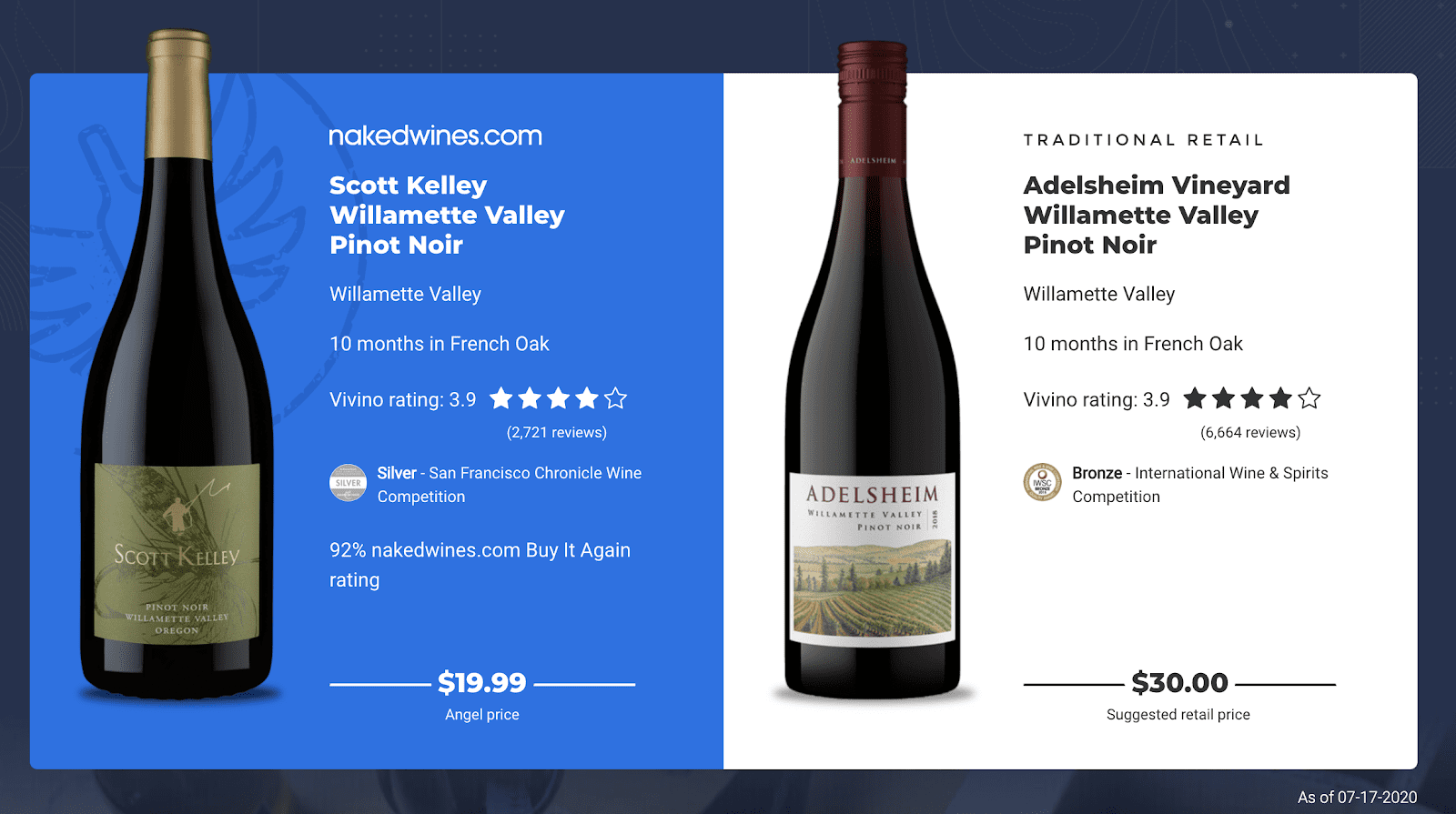 The Bottom Line: Is Martha Stewart Wine Club Worth It?
While the Martha Stewart Wine Club doesn't have the preference quiz like so many of its competitors, it makes up for it tenfold in the variety of wines available. With both subscription and a la carte options, the Martha Stewart Wine Club is an excellent option for novice wine drinkers to connoisseurs.
With prices as low as $7.49 per bottle, it's hard to find a wine subscription box with a better price point than the Martha Stewart Wine Club. And, to sweeten the deal, all of the subscription boxes come with free shipping.
The downsides? From the reviews of more experienced wine drinkers, it seems as though the selection of red wines is less than impressive. There's also no option to customize the mixed boxes if you want to avoid a particular wine.
You can see our full list of today's top meal delivery services to find an alternative that may work better for you.

All in all, the Martha Stewart Wine Club is an excellent subscription service for all wine-drinkers who are looking to expand their palates on a global level without breaking the bank.