Paleo on the Go is a frozen meal delivery service that has meal options for paleo, AIP, and low-carb diets. And, in true paleo fashion, all the foods are free of dairy, soy, gluten, legumes, and seed oils.
But can it sustain an individual's daily nutritional needs? This was the question that drove me to put together this Paleo on the Go review based on my own experience with the paleo diet, customers' reviews, and our experts' tips.
Overall, I found Paleo on the Go is true to its word. The service is transparent about its suppliers and dedicated to working with high-quality ingredients. Plus, the menu is well-stocked even though it lacks cuisine diversity, which can get dull after a while.
However, the high prices can keep paleo dieters on a tight budget at an arm's length. Still, if you want to try it, there are some options so keep reading to see if it's truly a good fit for your needs!
Pros
Good menu variety

Full transparency about ingredient suppliers

You don't have to sign up for a subscription

Current deal – Get $15 off your first order
Cons
High cost per meal

No menu rotation

Low cuisine diversity
Paleo on the Go Is Best For
Paleo dieters and people following an AIP menu

People on a low-carb diet

People who don't particularly enjoy cooking
Paleo on the Go May Not Be Great For
The menu is well-stocked and includes around 50 prepared meals per month. However, only around half are full meals or entrees, and the rest are breakfasts, sauces, desserts, soups, and bakery goods.
Also, both the Paleo and the AIP diets are quite restrictive which doesn't leave much room for cuisine diversity. There's no menu rotation and many meals are available year-long.
Still, I appreciate the generous sizes (you do feel full after one meal). There are even a few family-sized desserts such as cakes and muffins which make any birthday dinner preparations a lot easier!
Even if the menu isn't too diverse, you have plenty of options for weekly meals. Also, the ingredients are mostly organic, and the brand only uses pasture-raised meats and sustainably caught fish.
Overall, if you don't mind low variety in your diet (which is a side effect of the Paleo diet), you'll manage just fine. Plus, the company prepares a few bundles for when you want to roll the dice and have the chefs make the decisions for you.
At the time of my review, Paleo on the Go had three bundles on offer: the Breakfast Meal Bundle, the AIP Starter Pack, and the Sweet Tooth Bundle. The first one is a combination of the most popular breakfasts (it contains eight items), while the AIP Starter Pack includes a combination of meals, broths, soups, and dessert options.
The Sweet Tooth Bundle is designed to help you fight those pesky cravings that build up until you end up face-deep in a pie. To avoid such a grim scenario, this bundle provides AIP-compliant options for people with a strong sweet tooth. When you have these handy, cravings are a lot easier to control and keep in check.
Plus, I like that Paleo on the Go offers a monthly bundle that includes some of the most popular items on the menu. The package is different every month and includes nine complete meals, one soup, one bone broth, and one dessert.
In terms of customization, the company doesn't offer any options since the meals are already cooked when they reach your doorstep. However, you do have a few filters you can use to navigate the menu faster and find the meals that best suit your dietary preferences.
Since the menu is focused on Paleo and AIP dieters, there isn't much room for dietary preferences either. However, there are a few great low-carb options and a few meals that follow the GAPS diet.
Unboxing
Paleo on the Go delivers the meals frozen, so the box is well-insulated with a Green Cell Plus liner and a generous amount of dry ice. Plus, everything is packed in kraft paper and bubble wrap. The cardboard box, liner, and most of the plastic and paper inside are curbside recyclable and the dry ice evaporates.
Just make sure you follow the instructions when handling dry ice (never touch it with bare hands!). Since dry ice is heavy, there's the risk that some of the plastic containers will crack during transit. Still, if the food is frozen or just starting to thaw, you shouldn't have any leaks in the box.
As soon as you get the box, put everything you don't want to consume right away in the freezer. Place in the refrigerator any item you want to thaw, but make sure to consume it in five days max (best in three). Also, check each food item's use-by date and consume accordingly.
Each container label features valuable information about the meal such as ingredients, nutritional info, heating instructions, and use-by date. You can use these containers in both a microwave and an oven, depending on your availability and mood.
Paleo on the Go recommends that you reheat the meals in an oven (better texture), but it includes detailed instructions for both the oven and the microwave. Except for pastry (pot pies or empanadas), you can reheat everything in the microwave so don't worry if you don't have access to an oven.
However, you'll have to thaw each meal before heating, so it's important to think ahead. While heating can only take 10 to 15 minutes, some meals can take up to 24h to defrost in the refrigerator (as recommended by the company).
I have to confess that I didn't have the patience to wait for meals to fully thaw and I microwaved most of them half-frozen. Still, the meal turned out just as tasty and nice. So you can skip part of the thawing if you forget to get the meals out of the freezer.
Shortlist of My Favorite Meals
Even if there isn't much diversity, the menu features several interesting recipes that you may not get to try otherwise. For instance, I was quite tempted by this Coq Au Vin with Herb Mashed Japanese White Sweet Potatoes.
The meal is made with pasture-raised, antibiotic-free boneless, skinless chicken breast and thighs sauteed in a delicious sherry sauce that fits the AIP diet requirements. Also, I love the way the chefs reimagined the side dish and made sure the chicken's texture and taste were highlighted by using zesty Herb Mashed Japanese White Sweet Potatoes.
I like how the menu includes subtle substitutes for foods that you may find yourself craving while on this diet. For instance, if you're missing tacos, you can have your own with this Grass-Fed Beef Taco Kit. The meal comes with salsa verde, taco slaw, and tortillas!
And, if you're wondering about the breakfasts, check out this Smoked Salmon Breakfast Bowl recipe! It includes salmon (sustainably raised off the coast of Scotland) smoked over hickory wood chips. It also comes with an assortment of veggies such as cauliflower, butternut squash, and kale for the perfect breakfast!
Shipping & Delivery
Paleo on the Go uses FedEx to ship the boxes and can deliver anywhere in the country. However, the shipping costs differ based on the box's weight and the distance it needs to cover (the starting point is Tampa Bay, Florida).
You can also choose between standard delivery, 2-day express (only available in the areas highlighted green on the map above), and overnight delivery. However, I found standard delivery is the most convenient and the package usually arrives in three days top. In fact, if you place your order before 3 PM ET, you may receive it the following day!
All packages have a tracking number, but you can also include additional protection for about $5 per order with the Route+ service. With Route+, you can get your money back if your box gets damaged, stolen, or gets lost during transit. Otherwise, your order won't be eligible for any refunds or replacements related to issues in transit.
Shipping costs can make you think twice, especially if you want recurring deliveries. Even with the included discounts (current discount – Get $15 off your first order), you can end up paying between $21.95 and $55.95 for standard delivery or between $75 and $126 for overnight delivery.
Luckily, if you live in the Tampa Bay, Florida area, you can pick up your order for free at the Paleo on the Go headquarters. However, if you want to make any modifications, such as rescheduling your delivery, you have to talk to customer service asap. If you've already received a tracking number, changes won't be possible for the current order.
Subscription
Paleo on the Go works both as a one-time purchase service and as a subscription. If you choose to subscribe, you have the option to select delivery every two, four, or eight weeks.
How to Sign Up
To sign up, look for the little person icon, on the upper-right corner of the Paleo on the Go website and click on it. You'll see the Login or Sign Up page where you can create an account. However, unless you're going for a subscription, an account is completely optional.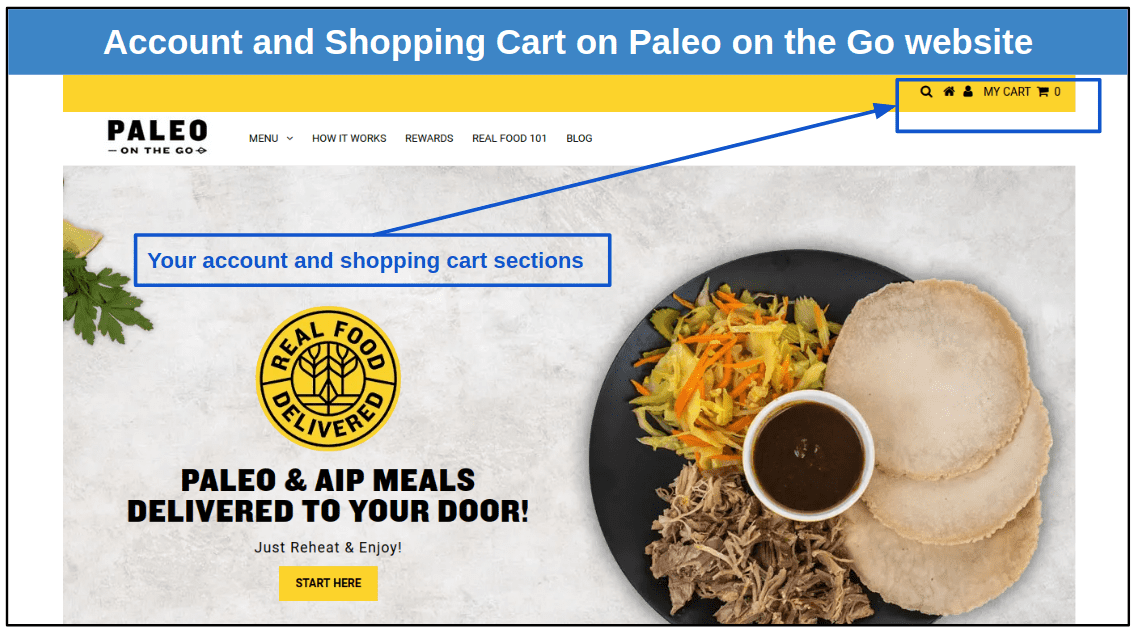 The Sign-Up form has only four fields and it takes less than two minutes to fill everything in. However, you shouldn't have high expectations because the account doesn't have many features.
Managing Your Subscription
Once you log in to the website, you can add several addresses (which is a nice feature), keep track of order history, and manage subscriptions. For anything else (including canceling an order, changing the date, or pausing a subscription), you'll have to get in touch with the customer service team.
Customer Service
The customer service team is well-organized and friendly, so you can reach out without any worries. Plus, if you get in touch Monday through Friday, between 8 AM and 4 PM EST, chances are you'll receive a reply within the hour.
You can reach out via traditional channels such as contact form or phone, but there are also more up-to-date channels such as live chat (24/7) and social media channels (where you can send messages or post comments).
And, if you want to find the answer by yourself, the FAQ section is pretty well-stocked. Also, the blog section is fun to browse as you'll learn a lot more about gut health, healthy eating, and other fascinating topics.
| | | |
| --- | --- | --- |
| Starting from | Minimum Order | Shipping Fee |
| $14.14 per portion | $99 per order | $21.95 to $126 |
Since Paleo on the Go isn't a subscription-based service, the price per order varies according to the items you add to the shopping cart. The minimum order is $99 and you have to add the shipping cost (which varies depending on location) and the Route+ service fee (if you opt for it).
To give you an idea, at the time of my review, entree prices were between $10.75 and $27.75 per serving. The same range is valid for breakfast, soups, and desserts, with the mention that you can also order a six-pack of soup and a family-sized dessert.
To save a bit of money (especially if you want to stick with this service), I recommend trying the Subscribe and save option, which gives you a 5% discount. The prices are a bit lower if you order in bundles.
If you have room in the freezer, it's best to place a recurring order every eight weeks that includes all your favorite meals and bundles. This way, you take advantage of all the available discounts and pay for shipping only every other month.
The Bottom Line: Is Paleo on the Go Worth It?
Paleo on the Go is a great option for active people who follow the paleo or AIP diets. All the meals are carefully prepared to follow strict dietary restrictions and all the ingredients are of high quality, from reliable suppliers.
Overall, if you want tasty, ready-to-eat meals at your disposal, Paleo on the Go is a fantastic option if you have the budget for it. If you find the cost per meal too high, you can use it as an addition to the meals you prepare (since you can order a la carte).
Also, if you think Paleo on the Go isn't the right fit, make sure to check out our list of best Paleo meal delivery services for more inspiration.
FAQ
How do you follow the paleo diet?
If you check the Paleo on the Go menu, you'll notice that all the meals are based on ingredients such as lean meats, fish, fruits, vegetables, nuts, and seeds. Overall, the paleo diet is based on ingredients that were available when humans were hunters and gatherers before we started farming.
Is Paleo on the Go worth it?
Yes! If you want to keep a proper paleo or AIP diet, Paleo on the Go is a great option. True, it may be a tad pricier, but high-quality ingredients don't come cheap. Plus, the paleo and AIP diets are quite restrictive and most of the approved ingredients are more expensive.
How quickly do you see results from the paleo diet?
If you eat high-quality meals, like the ones offered by Paleo in the Go, you can see results in the first couple of months. This is because the meals are high in protein and low in carbs. Plus, there are no highly processed foods and added sugar.