Short on Time? Here Are the Best Bariatric Meal Delivery Services
Disclaimer: None of the recommendations on this list are medical recommendations. Please speak to your healthcare professional before changing your diet or making any choices based on the following information.
The Best Bariatric Meal Delivery Services Reviewed
Registered dietitians design and approve all of Factor's microwave-ready meals, ensuring each recipe has a healthy balance of protein, veggies, and complex carbs. So you can rest easy eating Factor's meals during those on-the-go days when you only want to spare a few minutes to prepare your recovery meals.
You can even schedule a complimentary session with a registered dietitian (RD). Most services only allow you to do this after you order, but with Factor, you can speak with an RD before. This free consultation is great for those of you who need to ensure that Factor's meals are right for your dietary needs during your stage of recovery.
Plus, Factor's recipes are integrated into the most popular food tracking apps: LoseIt, Carb Manager, and MyFitnessPal, so you can easily record your Factor macros to ensure you're getting enough protein during recovery.
I like Factor's meal plans because they cover a wide range of diets. The 6 plans include High Protein, Keto, Flexitarian, Vegetarian, and more, which you can mix and match as you prefer. Meals are prepared by professional chefs and delivered fresh – never frozen. This is great for those in recovery who want to return to their pre-surgery diet.
The menu changes weekly and includes 35 recipes and 40+ add-ons each week, giving you plenty of variety. Cuisine is primarily American and Mediterranean throughout each plan.
While Factor has one of the best add-on selections of prepared meal services, extras are mostly accommodating toward keto dieters. Vegans and vegetarians won't find many options except for a few fruit smoothies. Check out our review for an expert take on the menu, cost, and more.

Factor prioritizes sourcing high-quality, humane, and sustainably grown ingredients. Each recipe is made with non-GMO and mostly organic produce. All poultry and eggs are cage- and antibiotic-free, all meats are pasture-raised or grass-fed, and the salmon is sustainably sourced.
All foods arrive fully cooked and microwave-ready, which is super convenient. However, I find it refreshing to have a salad or fresh plant-based side here and there since you'll be missing out on fresh veggies.
The minimum order is 6 meals per week with a maximum order of 18. Pricing starts at $6.19 per serving for the maximum order.
Key Features
Carefully prepared, nutrient-dense, low calorie, and humanely sourced foods

11 protein, 4 carb, and 4 veggie ingredients to build your own meals

Clean, Keto, Paleo Whole30, and Plant Based plans


Current deal: Get $120 off your first 6 boxes with code DR120
Trifecta offers a build-your-own meal plan called Meal Prep with super clean and fully but minimally prepped ingredients that can fit your 4 to 6 month phase of recovery eating. Ingredients are fully prepped with minimal ingredients like olive oil, garlic, onion, thyme, and rosemary, that are gentle on your stomach. All you have to do is plate which ingredients you want, heat for a few minutes, and enjoy.
Meal Prep ingredients are clearly labeled on each of the website's recipe cards, so you won't have to worry about prep ingredients that might upset your digestive system. Plus, ingredients are seasonally rotated to maintain optimal freshness and quality.
You'll also find the Classic, Keto, Paleo Whole30, and Plant Based plans. Each plan offers fully prepared meals for breakfast, lunch, and dinner. The maximum order of servings you can have with Trifecta is 21 per week (14 entrees plus 7 breakfasts).

Trifecta's food features zero preservatives, artificial, processed, or refined ingredients so it's super healthy. Ingredients arrive fully prepped and fresh – ready for consumption, refrigeration, or freezing. Read more about unboxing with Trifecta here.
Each meal is conveniently individually portioned in microwave-ready trays. I like when meals arrive in microwave-ready trays because you can easily save food for later and reuse the trays for storing other foods.
The biggest downside of Trifecta's menu is that you can't see what recipes are available for each plan until you start the ordering process. You can also select between choosing your own meals and letting Trifecta's chefs choose for you.
For an a la carte experience, choose the Classics menu. Here, you can choose from 17 recipes that include breakfasts. Some recipes rotate each week and include breakfasts, lunches, and dinners.
Trifecta offers an app in which you can track calories by recording each Trifecta ingredient you consume. The app can also scan barcodes and record nutrition facts from that food, further increasing your food-tracking efforts.
This is one of the more expensive services on this list. For a full week of 7 breakfasts and 14 entrees, you'll pay over $300 per week. The price per serving for the least expensive meal plan starts at $6.00.
Key Features
Low-calorie recipes designed by a Bariatric Specialist and her team of dietitians

150+ recipes adjusted to the diet plan you choose

Dietary options include low calorie, heart health, diabetes-friendly
All BistroMD meals are fully prepared low-calorie recipes and designed by a bariatric specialist physician with over 20 years of experience helping patients lose weight, her foodie husband, and a team of registered dietitians. BistroMD Meal plans are a convenient way to eat healthy and tasty weight loss-encouraging foods.
BistroMD meals are best for months 4 to 6 after weight loss surgery when you can eat more normal foods while maintaining a low calorie count per day. All recipes include a balance of complex carbohydrates (brown rice, quinoa), proteins, and healthy fats, and average about 350 calories per meal. You can read calorie counts on each recipe's meal card on the website.
You can order a full week's worth of 21 meals from any plan. Each meal is individually packaged in single-serve portions and designed to be eaten in 1 sitting. You'll have zero prep, zero cleanup, and zero moments standing in front of the fridge, deciding what to eat and how to make it. All you have to do is heat and eat your designated meal.

However, BistroMD doesn't focus on ingredient sourcing, so you won't find wild-caught, grass-fed, or organic options on the menu. You also can't make any ingredient swaps within meals since they're designed to be part of a strictly planned and portioned calorie-conscious diet. There's also no allergy accommodations so this isn't a great service for allergy sufferers.
Despite these limitations, you'll always receive balanced low-calorie meals consisting of whole foods. Each meal contains proteins, complex carbs, and healthy fats with macro balances according to the meal plan you choose. Check out my colleague's deep dive into BistroMD's complete meal delivery service in her review!
For each plan you can choose 2 meals for 5 or 7 days, or 3 meals for 5 or 7 days. If you choose 3 meals for 7 days, that's 21 meals per week, which removes any second thoughts about whether you'll have a ready diet-friendly meal in your freezer or fridge. Pricing for the maximum plan of 21 meals comes out to $8.24 per serving.
Key Features
Fully prepared low-calorie smoothies, soups, grain bowls, and snacks

Filter to avoid 10 different ingredients including caffeine, tree nuts, and beets

8 dietary accommodations including low calorie and blood sugar-friendly
Splendid Spoon is an excellent option for the 2nd or 3rd month of weight loss surgery recovery when you're eating soft foods. Some smoothies and soups may even be a great option for the 3rd or 4th week of recovery when you're on a full-liquid diet, as approved by your physician.
Splendid Spoon made this list because meals are fully prepared and low calorie. These meals arrive packaged in about 2 portions per recipe, and in packages that allow for easy refrigeration so you can consume them at a later date.
I find that Splendid Spoon has one of the easiest menus to filter. You can easily filter smoothies and soups for recovery-friendly options like high protein, low calorie, carb-conscious, low fat, no caffeine, and no spicy ingredients. All meals are calorie-conscious, grab-and-go, or fully prepared recipes, around 220-300 calories each.
While calories are low, portions are relatively large for those in recovery. Each 16 oz bowl or smoothie is meant for 1 meal or 2 snacks for 1 person, so listen to how you feel rather than aiming to finish the whole meal. Each portion should easily satisfy you, and may be enough for 2 or more meals depending on your stage of recovery.

The cuisine variety is primarily Mediterranean recipes for the soups and bowls, with hints of Mexican, Indian, Thai, and Asian-inspired flavors. You can choose from 20 to 25 smoothies, 20 to 25 soup or grain bowls, 9 noodle bowls, 4 fresh-squeezed juices, and 5 power shots.
Each smoothie contains 100% plant-based ingredients, zero artificial sweeteners, and 100% non-GMO produce. For more on Splendid Spoon's complete service and its clean, vegan, prepared meals, check out our in-depth review.
Ordering with Splendid Spoon is super easy since you can order once or subscribe, and meal plans are super flexible. I like that all you have to do is choose the number of items you want in your box, from any category on the menu. This allows you to have a nice variety of recovery foods including hot and cold, soft and solid foods.
Splendid Spoon is one of the pricier services per serving, since prices start at $9.99 per serving when you order 21 meals. You can order box sizes of 7, 14, or 21 meals, with free shipping for the latter 2.
Key Features
All veggies are organic, food is Non-GMO, meals are less than 500 kcal

100+ unique fully prepared meals recipes across various diet plans

8 dietary options including Whole30 and Low-Carb Vegan
Fresh N Lean uses super high-quality ingredients to create 8 meal plans with recipes that are less than 500 calories each, and about one-third are even less than 300 calories. Keeping track of macros, especially protein, during each stage of recovery is very important, and what's great about this service is you can instantly view each meal's calorie and macro count when you click on the recipe card.
This is a great service if you're in your final stages of recovery and want to ease back into your vegetarian, vegan, or keto diet after weight loss surgery. And what's convenient with this service is that each meal arrives in microwave-ready trays. If you only need half the meal to best support your recovery, you can leave the other half in the tray for later.
What I find impressive about this service is that it offers 8 different diet plans that you can mix and match to your liking. These plans include Keto, Paleo, High Protein Vegan, Mediterranean, Whole30,Protein+, and Low Carb Vegan.
The bulk plan is a 9th option where you can buy bulk proteins and sides rather than full meals. You can also order from the a la carte menu of 10 to 12 weekly rotating meals and 11 proteins in 16 oz portions if you'd like to have more control over your portion sizes and ingredient prep. Whether you're getting back to your paleo, keto, or protein-conscious vegan diet, there's plenty to choose from on the menu every week.
Fresh N Lean offers 10-12 lunch and dinner recipes and 6-8 breakfast recipes for each plan, so you can cover 3 meals per day, or mix and match as you prefer. This is best for ultimate convenience post-recovery since all you have to do is open the fridge, heat, and eat.
You can even exclude 10+ ingredients like dairy or spice and receive accommodations for sesame, soy, and shellfish allergies. Plus – all Fresh N Lean meals are certified gluten-free. Check out my colleague's in-depth review of Fresh N Lean if you'd like to know more about its complete meal service.
I also like that Fresh N Lean ships your order fresh, so that foods arrive ready to eat within 2 to 3 minutes of heating in the microwave. Meals arrive in single-serving containers, which isn't ideal for large families but is easy for your post-op meal planning.
What I like most about Fresh N Lean is the high quality of its ingredients. All meat is grass-fed and never received antibiotics or hormone treatments, all veggies are organic, and all food is non-GMO! Having minimally processed, whole ingredients that are so thoughtfully sourced are excellent for post-op recovery.
Fresh N Lean's order minimum is 5 meals per week and up to 21 meals plus snacks. That means zero prep all week plus snacks. The meal price for 21 meals is $7.53 per portion.
Key Features
Swappable ingredients in most recipes

100+ recipes each week and hundreds of add-ons

10 dietary accommodations including <500 calories per meal
Hungryroot's best features are its customizability and variety. Post-bariatric surgery recovery can be tough since you need to eat small amounts of food. With Hungryroot, you'll have plenty of variety to choose from. Unlike most meal delivery services, you can swap ingredients in most of Hungryroot's recipes to suit your optimal calorie count.
To start your subscription with Hungryroot, you take a detailed quiz about your eating needs and taste preferences – including whether you have weight loss goals – that helps Hungryroot recommend recipes to fill your cart. Read our full review for a step-by-step guide to the whole process.
Once your cart is full, you're free to swap recipes or ingredients in recipes. This allows you to include more greens, proteins, or veggies in your meals. It also increases your recipe choices significantly and gives you more opportunities to get creative in the kitchen.
Hungryroot's menu also has great filter options that help you easily view its extensive menu by your preferred categories. Since this is a grocery-based service, you can view the menu by Groceries or Recipes, and you can easily filter each menu by protein, spice level, dietary needs, prep time, serving size, and more.

One downside of Hungryroot's service is that you'll see a lot of repeat ingredients in its recipes. For example, while there are 20+ salads and salad groceries to choose from, you'll see that salad recipes might be pretty similar.
Choose a minimum order of 4 meals, then add a la carte groceries and snacks. Groceries include tons of low-calorie proteins like 140 kcal per serving Seasoned Pulled Chicken or liquids like the 150 kcal Lime Coconut Chicken Bone Broth.
Hungryroot is a great service if customizability is your priority in planning your post-op meals. Prices start at $8.99 per serving, and you can order 6 to 16 servings per week.
Key Features
Meal options for breakfast, lunch, dinner, and snacks

130+ unique recipes

Dietary options include low-calorie, high-protein, vegetarian, and more
With Nutrisystem, you get fully prepared meals that are microwavable and delivered frozen. All you need to do is store them in your freezer, and they're always ready to go. This ease of use can be a relief, especially when you're in the later stages of post-op recovery, and the last thing you want to do is fuss over complicated meal preparations.
One of the most commendable features of Nutrisystem is its diverse menu. From savory pasta dishes, hearty sandwiches, and mouthwatering burgers to classic pizzas, soothing soups, stews, and nourishing grain bowls, there's a flavor for every palate. This diverse range ensures that even in the last stages of your post-op recovery, you're never bored with your meals.
Nutrisystem's diet plan is curated to provide between 1,200 to 1,500 calories per day. These calories are distributed across 3 meals and 1 snack, which are all provided by Nutrisystem. This way, you ensure a steady and healthy post-op journey, especially if you need to eat low-calorie foods and keep a watchful eye on your diet.
Nutrisystem's meal plans cater to both men and women at various stages of life. Whether you're a young adult or in your golden years, there's a tailored plan just for you, ensuring your dietary needs are met. My colleague's in-depth Nutrisystem review can provide more info if you're interested.
Every Nutrisystem subscription is paired with the NuMi app. This intuitive app becomes your companion, helping you monitor your daily caloric and macronutrient intake. As you make progress, you'll find this tool indispensable in ensuring you remain within your dietary guidelines.
When it comes to cost, Nutrisystem offers flexibility. Prices start at $8.54 per day for the basic plan and can go up to $15 per day for more comprehensive options. You have the choice to order either 5 days' worth of meals or a full week, and deliveries are scheduled monthly, ensuring you're consistently stocked up.
Key Features
Meal kits and prepared meals

20 entrees (meal kits and prepared) each week

6 dietary options, such as gluten-free, soy-free, vegan, and others
Purple Carrot offers both meal kits and fully prepared meals that are 100% plant-based. Everything it delivers is fresh, and the ingredients used are of the best quality (even organic, whenever this is possible). This aligns well with the requirements of the vegan diet and offers an effortless way to incorporate wholesome meals into your daily routine.
Just because you're ordering vegan food, it doesn't mean it will be boring. In fact, Purple Carrot's offer is exciting and features a mixture of global cuisines. Whether you're in the mood for a hearty dinner, a quick lunch, or a refreshing breakfast, the meal kits section has you covered. To learn more about Purple Carrot's offering, check out our well-detailed review.
When you're in the post-op recovery phase, it's essential to avoid certain irritants. Purple Carrot understands this and offers a weekly menu that features gluten-free, soy-free, and nut-free options. Each of these is clearly labeled, allowing you to make informed choices and ensuring that your meals are both satisfying and safe for your sensitive digestive system.
Caloric intake is a primary concern post-bariatric surgery, and Purple Carrot is attuned to this requirement. All the meals hover between 500 and 800 calories per serving, making it easier for you to adhere to dietary restrictions without compromising on flavor.
Most of Purple Carrot's meal kits can be prepared in 35 minutes or less. Plus, you get to learn how to cook exciting recipes, like Okonomiyaki-Style Brussels Sprouts and Hoisin Tofu Steaks, which are filled with flavor and delicious ingredients.
Apart from their core offerings, the Add-ons section at Purple Carrot is equally impressive. From pantry staples to ready-made foods like the delectable Purple Burger and Truffle Burger, this section ensures you have a selection of plant-based foods at your fingertips.
Purple Carrot offers 2-person and 4-person meal kit plans. Depending on your needs, you can opt for 2 to 4 meals per week. Prices for these kits range from $8.50 to $13.25 per serving. If you're looking for ready-made meals, options are available for 6, 8, or 10 single servings, all priced at $13 per serving.
Key Features
All produce and eggs are organic

45+ unique recipes per week

8 meal plans, including keto, plant-based, gluten-free, and more
Green Chef can help you navigate post-bariatric surgery dietary changes. The company features chef-crafted recipes that not only enchant your taste buds but are also designed with clean, high-quality ingredients. Even more, the menu changes every week, so there's little chance for monotony.
One of the reasons Green Chef stands out is its support for various dietary needs. Whether you're looking for gluten-free, vegan, vegetarian, calorie-smart, keto, or Mediterranean options, you will find meals that align with your specific needs. This adaptability means your meals not only satiate your hunger but also respect your dietary choices.
Green Chef also features an outstanding add-ons selection. Here, you can find a wide range of items, such as quick breakfasts, lunches, health-conscious sweets, and perfectly cooked proteins. For more about what's on the main menu or on the Add-ons menu, check my colleague's review of Green Chef.
Most of Green Chef's meal kits are designed for quick prep and cooking times. If you don't like spending too much time in the kitchen, don't worry – these kits only take 30 to 35 minutes. For those ultra-busy days, you can choose from Green Chef's selection of 10-minute lunches (around 4 options per week on the main menu).
Green Chef is the best option for the last leg of the recovery period when you can eat regular foods. Entrees like the delectable Creamy Mustard-Herb Chicken or the zesty Blackened Tilapia with Dirty Rice are delicious, but they can be a bit heavy in terms of fat and carbs.
The good news is that you can customize your meals to fit your needs. For instance, you can fine-tune your recipes by upgrading or swapping proteins (just be sure to check the prices, as they will change). You can also add extra meals or even double the portions.
To further support your post-surgery journey, Green Chef offers a free 20-minute nutrition coaching session. This one-on-one session with one of the registered dieticians on the team can provide insights, guidance, and tailored advice to ensure your dietary choices are both delicious and beneficial.
Still, keep in mind that Green Chef can be pricey. Prices start at $9.99 per serving, and you can order for 2, 4, or 6 people (so it's great for both couples and families).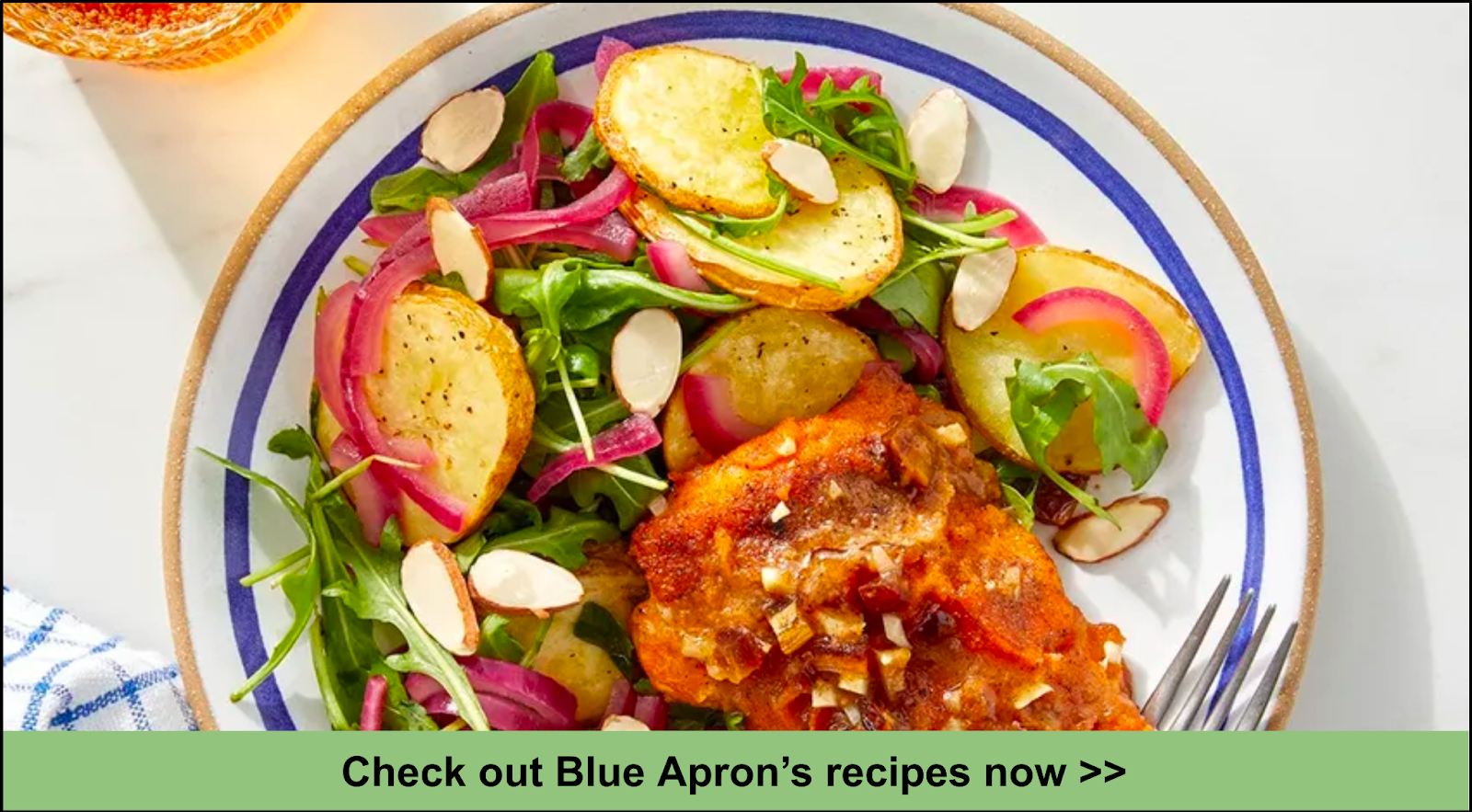 Key Features
Wellness plan has low-calorie recipes


16 unique recipes per week including 3 Heat & Eat options

Dietary accommodations including vegetarian, low-calorie, and health-conscious
All proteins from Blue Apron are free from antibiotics and hormone treatments. A low-calorie post-op recovery diet doesn't have to be low flavor, and Blue Apron's got you covered with high-quality meal kits that contain signature seasoning mixes.
You'll even see recommendations for calorie-conscious meal prep ingredients when you open recipe cards on the Blue Apron website. Check out my colleague's full review of Blue Apron for more about its gourmet weight loss-friendly recipes.

Every Blue Apron ingredient is measured, portioned, and packaged, and the step-by-step recipes are easy to follow. Though some recipes take longer than others, most novice to experienced chefs can follow these recipes.
You can find complete recipes within each recipe page on the website and read through each step-by-step page, or click the Cook Along button for a slideshow version of your recipe – with pictures.
Most recipes require about 25 to 30 minutes prep time, but you can also choose from 3 microwave-ready meals each week that only take 5 minutes to heat. Heat-and-eat meals include all the same high-quality ingredients as Blue Apron's meal kits, with recipes like Miso-Sesame Chicken with Brown Rice and Vegetables. These meals are best for individuals in the final stages of recovery and can eat small-portioned normal foods.
Blue Apron is a great option if you're happy with a Mediterranean-diet-inspired menu, have no food allergies, and don't mind spending about 30 minutes food-prepping for a gourmet dish.
Blue Apron's minimum order is 2 meals equaling 2 servings each per week, but you're free to order as many as 5 meals of 4 servings each per week. Pricing starts at around $5.74 per serving for the maximum order.
Quick Comparison Table