Factor vs. Freshly 2023: Which Prepared Meals Are Best?
Whether you're a student living with roommates, a busy professional living on your own, or a gym-goer looking for a healthy post-workout meal, either of these prepared meal delivery services could be a big time-saver. But which one comes out on top?
To find the answer, I ran an in-depth Factor vs. Freshly comparison. I discovered that Freshly works out more cost-effective and has a handy mobile app, but if you're looking for a specific diet, you might find the offerings limited. On the other hand, Factor caters to more diets and preferences, but it's more expensive.
Ultimately, if you're looking for budget-friendly, healthy prepared meals, you really can't beat Freshly. If you want to know more about how I chose the winner, read on.
At a Glance: Who Won Each Category?
Winner: It's a tie!
This was a close-run thing. I love Factor's more balanced menu and sweet treats in the Factor+ extras, but Freshly's offer is significantly bigger and more varied.
Both services provide single-serving prepared meals that reach your door fresh and ready to eat. They also both employ professional chefs to make sure each meal is cooked to perfection, and the menu and list of ingredients are decided in collaboration with dietitians (Factor) and nutritionists (Freshly).
Interestingly, both services had a high ratio of chicken dishes on the menu compared to other proteins like pork, beef, fish, or veggie protein. When I checked, Freshly had 17/50 dishes and Factor had 11/32. That's a lot of chicken!
Both services offer some type of add-ons, but Factor is the clear winner in this category with its optional Factor+ extras and breakfast options. Freshly's limited add-ons consist mainly of side veggies and extra protein.
Factor+ healthy extras are priced individually and added to your normal subscription costs, but in my opinion, they're worth it. They're great to have on hand after the gym. From Wellness Shots and soups to shakes, smoothies, and keto-friendly snacks – I had a hard time keeping my clicking finger in check when selecting my week's meals.
Factor and Freshly both offer a decent variety of international cuisines and flavors – Thai, Greek, and Mexican dishes appear alongside American, Italian, and Indian favorites, to name but a few. The only thing they don't really offer are family-friendly options, but if you're cooking for several people you'll probably find meal kits a better choice than single-serving portions.
And if you're wondering about the size of those portions, Freshly says its meals are perfectly sized to feed one hungry person in one sitting. For a more accurate idea, the average weight of the meals is 13.6 ounces per serving. Factor's menu isn't as detailed regarding weights, but the same applies – one meal for one person.
Here are a few of the dishes you can expect from Freshly:
And here you can find a couple of delicious Factor meals:
Winner: Factor
Since these are both prepared meal services, you can't customize them (or skip ingredients while cooking) like you would with a meal kit. In this section, I'm going to focus on how different diets and restrictions are catered for by each service.
Both services give you access to their menus before signing up so you can check the ingredients in each meal to make sure the meals suit your needs.
Freshly makes it very clear from the get-go that most of its meals are certified gluten-free. Factor, on the other hand, does offer meals suitable for a gluten-free diet, but there's a risk of cross-contamination. So people with severe allergies and those suffering from celiac disease should be careful.
When it comes to diets, Factor is more focused on specific diets (keto, low-calorie) and includes a few weekly vegetarian and vegan choices (around four per week). Freshly's menu is less specialized, but there are several Purely Plant options (around seven per week), so there's slightly more choice for veggies.
With Freshly, you have the freedom to choose your meals; it doesn't have a "set menu" option. With Factor, you can either pick your own meals or Factor can decide your whole week's menu for you based on your preferences. With both services, you have freedom of choice when it comes to the menu.
However, neither service offers the possibility to specify ingredients you dislike or may be allergic to during the signup process.
You can easily filter your Factor meal options on the website by following the relevant dietary category (Keto, Calorie Smart, Vegetarian, Vegan, or regular meals). Each category is represented via a brightly colored tag, so it's easy to scroll through and find the ones you want.
Once you click on a meal, you can find detailed nutritional information alongside a full list of ingredients, a description of the meal, and pictures that'll make your mouth water.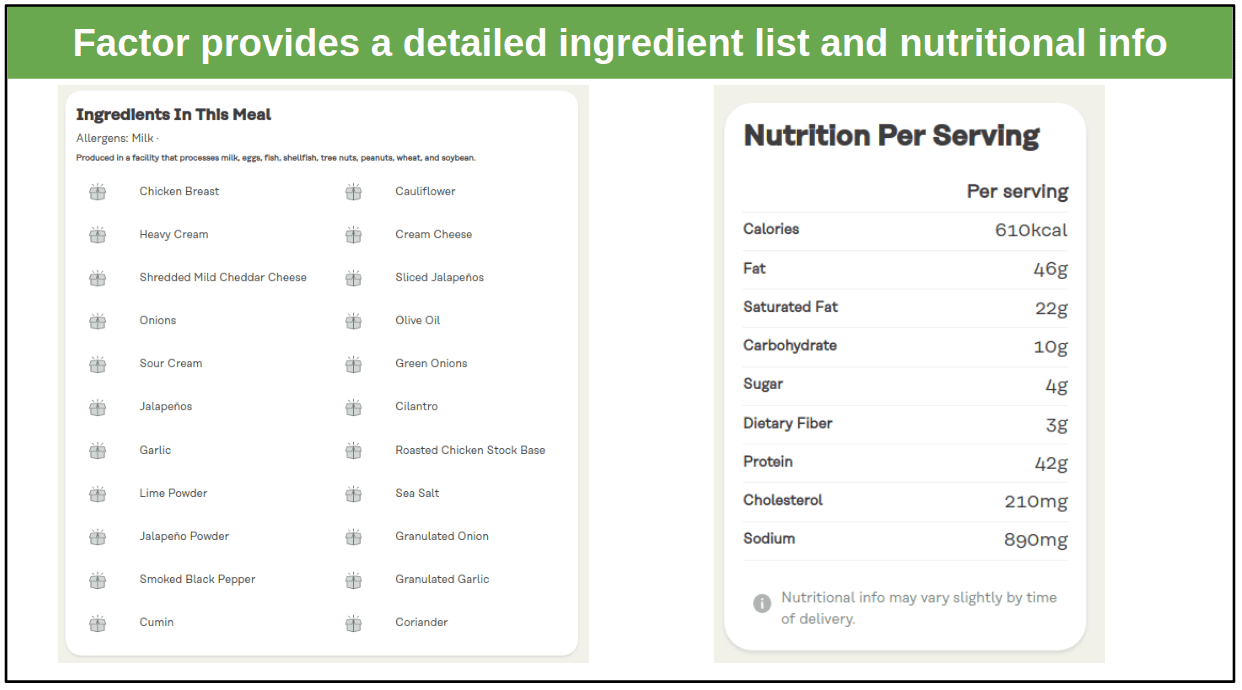 The Freshly website isn't quite as precise. While it's easy to browse, the menu offers four categories that I found quite arbitrary: Purely Plant, Signature Collection, FreshlyFit, and Proteins & Sides. The labels were a bit confusing and sometimes don't provide clear indications of which dietary requirements they satisfy.
The diet filters were much more useful but it's only once you've clicked on a meal that it shows all the relevant subcategories and tags (such as soy-free, high-protein, or dairy-free), which is something Factor doesn't have.
However, you need to go through each meal individually to find out if it's suitable for your dietary needs or allergies, which I found quite time-consuming.
On the other hand, the ingredients and nutritional information lists are more visual than Factor's, but they're also lacking in detail at first glance. You need to click on "show more" to see the full lists.
Luckily, Freshly's app is its redeemer: it gives you the option to indicate which foods you feel neutral about, which foods you enjoy, and which foods you want to avoid. There are also filters such as "Carb Conscious," "Curb Calories," and "Sodium Smart." It uses this information to tailor meals to your tastes.
I couldn't find any seafood-based meals on Freshly's website menu, although it does seem to offer those when you browse through the FAQ. Factor, however, has at least one seafood-based meal per week on the menu, and there are two add-ons (shrimp and pan-seared salmon) that you can also select if you're looking for more fish in your meal plan.
If you're unsure about what kind of meals you should be eating, Factor offers free consultations with its online nutrition coaches and dietitians. This is a great perk, especially if you're trying to start eating healthier or are starting a new diet. You can chat with them to figure out the ideal meal plan for you.
Ordering, Delivery, Unboxing
Winner: Freshly
Hands down, Freshly is the winner here! I love how it uses badges (labels applied on the food packaging) to clearly mark the food you should eat first and the range of delivery days.
Both services make ordering easy. Factor makes you register first (including payment details) before you choose the meals, though. Freshly is more easygoing and lets you browse the menu, decide on the meals you want and then sign up. In both cases, the minimum order is four single-serving meals per week.
Freshly and Factor allow you full control over your subscription via an online account. This means you can skip an order, edit your choices, or cancel the subscription as long as you respect a few rules.
With Factor, you have to make your changes before the cutoff, which is 11:59 pm CT on Wednesday. With Freshly, the cutoff date depends on your location and your preferred delivery date. So you have to check your confirmation email to find your cutoff. Usually, you'll have five or six days to decide. Also, you can make changes up to three weeks ahead of time!
Both Factor and Freshly deliver fresh meals (not frozen) each week. Plus, both services deliver to all 48 contiguous states, so as long as you don't live in Alaska or Hawaii, you're all good. The main difference is the delivery days on offer: Factor only delivers Monday to Wednesday, whereas Freshly offers delivery seven days a week.
Your exact delivery day will depend on your location, so check this before signing up. I prefer my meals to be delivered on Mondays and could make this happen with both services.
Once you open the box, it's best to place the meals in the fridge and consume them before the "Enjoy by" date printed on each. Factor meals should stay fresh in your fridge for about seven days and Freshly meals last for 3-5 days.
Packaging from both is recyclable and even the denim insulation that Freshly uses to keep the food fresh is 85% biodegradable, so it'll be broken down over time to natural elements, without causing any harm to the environment.
Factor uses reusable gel ice packs, so you can keep them for when you're going on a picnic, or when you want to keep things in a cooler box when barbecuing outside. The food arrives neatly packaged and labeled, and the food will still be cold – although the gel packs may start to melt, which is normal.
Freshly puts a badge on the food it suggests you eat first, which I found really useful. If you're worried about the food going off, you can always freeze the meals and reheat straight from frozen – for me, that's one of the biggest advantages of these prepared meals.
Freshly's app came into its own again here, as it also lets you track your order and delivery. If you're still unsure about when your food will arrive, you can contact the 24/7 support team via the app, too.
Meal Prep
Winner: It's a tie
Both companies understand that tasty and nutritious meals need high-quality ingredients, and only work with reputable farms and ranches. The meat is sourced from US producers with humane and ethical practices and is free from fillers, chemical additives, and preservatives.
Depending on seasonality, some ingredients may be sourced from other countries, but only from producers with sustainable agricultural practices.
The meals from both Freshly and Factor come in microwave-safe plastic containers (and Factor specifically states that its packaging is BPA-free).
You don't need to add anything – your whole meal is already prepped and ready to heat. Plus, there's no need to let the meals thaw in the fridge since nothing is frozen beforehand.
Since both these services offer prepared meals, the "difficulty levels" and prepping/cooking times of all meals are roughly the same: easy as pie. They take just 2-3 minutes to reheat in the microwave, depending on your microwave's power. Just make sure to consume them according to the "Best by" date printed on the sleeve.
I love it! When I'm hungry, I want to eat as soon as possible, not spend an hour reading a complex recipe while prepping and cooking a meal for myself. Both these services will suit busy people who want to get dinner on the table as quickly as possible.
Customer Support
Winner: Freshly
Both Freshly and Factor have a comprehensive FAQ section where users can find detailed answers to their inquiries, but Freshly wins as it offers more contact methods and its team is more readily available.
Factor's team is available via phone or live chat, but only Monday through Friday from 9 am to 9 pm CT and Saturdays and Sundays from 9 am to 6 pm CT.
On the other hand, Freshly's team is more readily available via 24/7 phone, Facebook Messenger (7 days a week, 8 am to 1 am EST), and email.
What I like about both teams is that they're open for discussion, whether you're a paying customer or just shopping around. So if you have a question you can't find the answer to, it's easy to reach out to them.
Winner: Freshly
Freshly knocks Factor out of the park where starting prices are concerned.
Aside from the meal's contents, price is my most important consideration. Freshly is the more affordable of the two, with meals starting at $6.90 per serving (if you order 12 meals a week). Still, even if you don't order the maximum number, Freshly remains the more affordable option of the two.
Factor's lowest price can be $6.19 per meal, but only if you're ordering the 18-meal plan and benefiting from one of the many available promotions. Otherwise, the price per meal is higher than Freshly's.
If you're looking for smaller plans, Freshly's 4-5 Meals plan works out to $11.79 per meal while with Factor it would be $15 per meal on the same size plan. Also, Factor's add-ons range from $8.99 to $30.
Preferences and Number of Meals from Factor
Freshly's website gives you the estimated shipping costs for each meal plan at checkout. The costs depend on your location and meal plan and range from $9.99 to $11.99. Factor, on the other hand, applies a flat fee of $9.99 for each shipment.
Both of these services offer the option to pause your subscription for up to four weeks if you're going away, so you won't waste money on a delivery that you won't be able to use.

Features Comparison: Factor vs. Freshly



Factor

Freshly

Best for

People who follow a specific health diet

Busy people on a budget

Starting price

$6.19 per serving

$6.90 per serving

Shipping cost

$9.99

$9.99-$11.99 depending on location and meal plan

Minimum order

4 meals/week

4 meals/week

Menu Variety

30+ choices per week

40+ choices per week

Prep Time

2-3 min to reheat (meals are prepared)

2-3 min to reheat (meals are prepared)

Clean-Up

None

None

Convenient Options

Oven-ready, microwave-ready

Oven-ready, microwave-ready

Allergy Options

Allergens mentioned for each recipe

A certified gluten-free food service

Possible allergens specified on the label

Special Dietary Options

Keto, high-protein, low-carb, low-calorie, vegetarian

Gluten-free, dairy-free, soy-free, low-sodium, low-calorie, low-carb, high-protein, plant-based




Customer support

Online chat, phone

24/7 online chat, email, phone

Promotions
And The Winner Is: Freshly
Both of these are solid services, but Freshly has more meals on the menu plus a handy app through which you can manage your meals, subscription, payments, and everything else while on the go.
If you're on a tighter budget and aren't too bothered about specific dietary options, Freshly's low prices are definitely a plus. It also made it onto our list of the best prepared meal delivery services of the year.
However, Factor might be better for you if you're following a low-calorie or Keto diet, and don't mind paying extra for convenience.
FAQ
Is Factor Good for a Healthy Lifestyle?
Factor is ideal for people who want to eat healthy but who don't have time to cook. When I researched Factor's menu, I found that it catered to several specific health diets such as Keto and low-calorie.
How much does Factor cost per month?
When
comparing Freshly and Factor's prices
, I found Factor to be on the pricier side, but the cost per month depends on the number of meals you order and the number of add-ons to each order.
Factor's price-per-meal can go as low as $6.19/meal if you order 18 meals per week. If you stick with the minimum order (4 meals/week) it will cost $15/meal.
Where do Freshly's meals come from?
All Freshly's meals are cooked by professional chefs in specially equipped kitchens all over the country. All the kitchens are safe and well-suited for small-batch production.