At a Glance: Who Won Each Category?
Winner: BistroMD
BistroMD has slightly more variety, with options from a wider range of cuisines, including a limited selection of plant-based meals and more seafood options. Both services offer healthy and nourishing meals, but BistroMD's wider range of options and variety makes it my top choice. I love that you can order healthy snacks as add-ons.
Both Freshly and BistroMD provide prepared meals in single-serving portions. Freshly's menu offers around 35+ different meals, while BistroMD offers an impressive 150+ options, with both taking inspiration from various cuisines worldwide.
In addition to meals, BistroMD also offers a range of high-protein, high-fiber snacks for an extra cost. Freshly's menu focuses on a combination of chicken, turkey, or pork with veggies and rice, with only around 5 vegan options available.
Both provide single-serving meals, so they're not the best choices for families. Freshly has a smaller menu that remains constant, whereas BistroMD has some rotation meaning there's more variety of meal choice.
Winner: BistroMD
BistroMD just beats Freshly with its ability to customize menus. Freshly lets you filter menus easily, but with BistroMD, all the hard work is done for you when you choose which plan you want to sign up for.
They both do allow you to customize your menu to some extent. With Freshly, you can choose from around 50+ different meals per week, including options for specific dietary requirements such as gluten-free, high-protein, low-carb, and vegetarian. I also like the meal categories, including FreshlyFit, Takeout Twists, and Purely Plant.
On the other hand, BistroMD offers 6 different meal plans to choose from, including Signature, Gluten-Free, Diabetic, Heart-Healthy, Menopause, and Keto Flex. Within each meal plan, you have the option to customize your meals by excluding dishes with ingredients you don't like or can't eat due to allergies or other dietary restrictions.
All of Freshly's meals are gluten-free so it's a great option if you have an allergy to gluten. Its recipes are also peanut-free. BistroMD has a specific Gluten-Free plan but can't guarantee that other dishes are free from allergens. If you're allergic to tomatoes, egg, or soy, BistroMD can customize your menu to exclude any dishes containing these. Note than neither service lets you exclude ingredients from the actual meals.
Ordering, Delivery, Unboxing
Winner: Tie
Ordering on both Freshly and BistroMD is relatively straightforward. Customers can easily browse the weekly menu options and select the meals they want to order. Both services allow you to skip weeks or cancel your subscription at any time, with no penalty or extra charge.
Freshly has a user-friendly website that allows you to easily browse meals, select your options, and check out. Changes to your order can be made up to the weekly cutoff time without any hassle. The minimum order is 4 meals per week, but you can increase that to a maximum of 12 meals per week if you prefer.
At BistroMD, things are a bit different as you choose between a 5 or 7 day program that covers either 2 meals (lunch and dinner) or 3 meals a day (breakfast, lunch, and dinner) The ordering process is still straightforward, with a simple and easy-to-use website.
Freshly and BistroMD both offer nationwide delivery in the United States, but delivery days and times may vary depending on your location. Freshly offers delivery to most areas of the country on specific days of the week, which you can choose during checkout.
If you need to reschedule a delivery, both Freshly and BistroMD offer easy online options. Freshly also has a handy app that provides tracking information, while BistroMD uses the standard FedEx delivery system.
When it comes to unboxing, both Freshly and BistroMD take a sustainable approach by using recyclable materials for its packaging. Each meal is delivered in a microwave-safe, CPET plastic tray that can be recycled, along with the cardboard sleeve.
Meals arrive at the right temperature and are ready to be stored. BistroMD uses dry ice to keep its meals cool during delivery, while Freshly uses non-toxic gel ice packs, which can also be recycled once emptied and washed.
Meal Prep
Winner: Tie
It's a tie between Freshly and BistroMD as meals are super easy to prepare. There's no meal prep needed; simply microwave Freshly meals for 3 minutes. BistroMD's meals do take a little longer as they arrive frozen. But as you can defrost them the night before, there's really not much difference.
Freshly meals arrive fresh and ready to cook, which means that they aren't frozen. The meals are designed to be heated up quickly and easily. On the other hand, BistroMD meals are frozen before being shipped.
BistroMD meals can be stored in the freezer for up to 2 months. Freshly meals should be consumed within a week unless you pop them in the freezer before the use-by date.
Customer Support
Winner: Freshly
Freshly and BistroMD both offer multiple customer support options, including email and phone support, as well as a comprehensive FAQ section on their respective websites. But Freshly makes the top spot thanks to its live chat feature so you can get your queries answered in real time.
Both have contact forms on their websites where you can submit your questions and receive a response via email. I like that Freshly makes it easy to contact a menu expert if you need some advice about choosing your meals.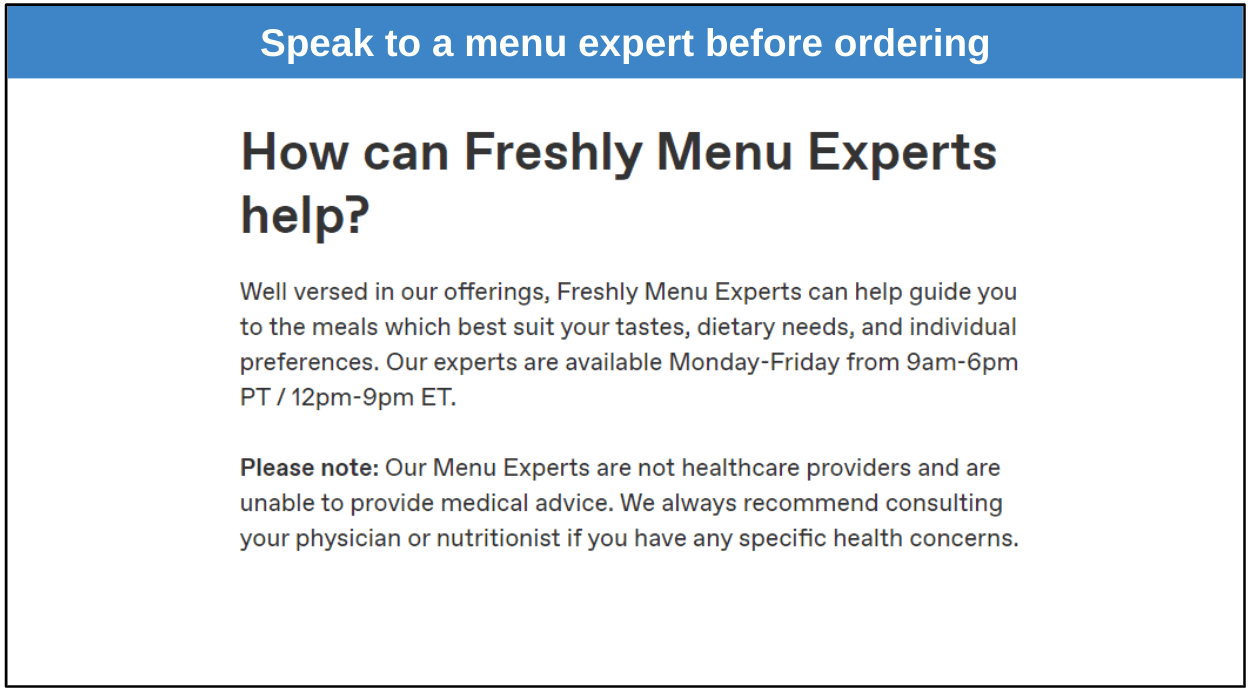 BistroMD offers 24/7 email support and phone support from 8 am to 8 pm (ET) on weekdays and 9 am to 6 pm (ET) on weekends. In addition, BistroMD subscribers have access to its in-house dietitians, who can help with any questions or concerns and customize its meal plans accordingly.
Freshly's customer support team is available from 6 am to midnight ET, 7 days a week via email or phone. While its availability window is smaller than BistroMD's, it still provides ample support throughout the day and night. I contacted customer services to ask about how I can edit the menu plan and received a reply in less than 2 hours.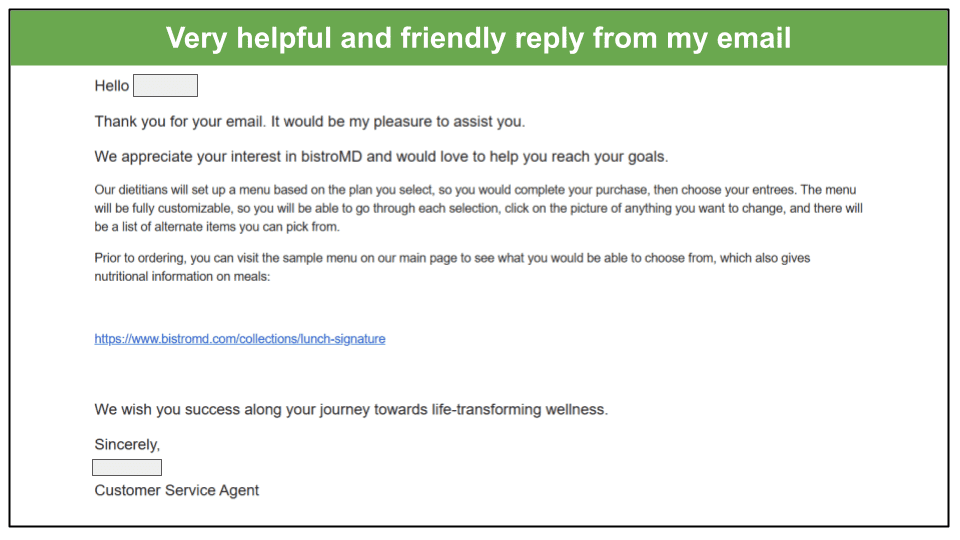 Both companies offer an FAQ section on their websites that may answer your questions about customization or allergens. For further inquiries, BistroMD and Freshly both have email and phone support options, making it easy to get in touch with a representative.
Pricing
Winner: Freshly
Freshly is one of the most affordable prepared meal delivery services. Its plans start at $8.49 per meal for a weekly plan of 12 meals and go up to $11.49 per meal for a weekly plan of 4 meals. The more meals per week, the lower the cost per meal.
BistroMD's plans start at $8.24 per serving, and you can use our coupon code for even more savings: 40% OFF + free shipping on your first week. BistroMD's programs also include access to dietitians and weekly wellness updates. Plus you can add snacks at an additional cost.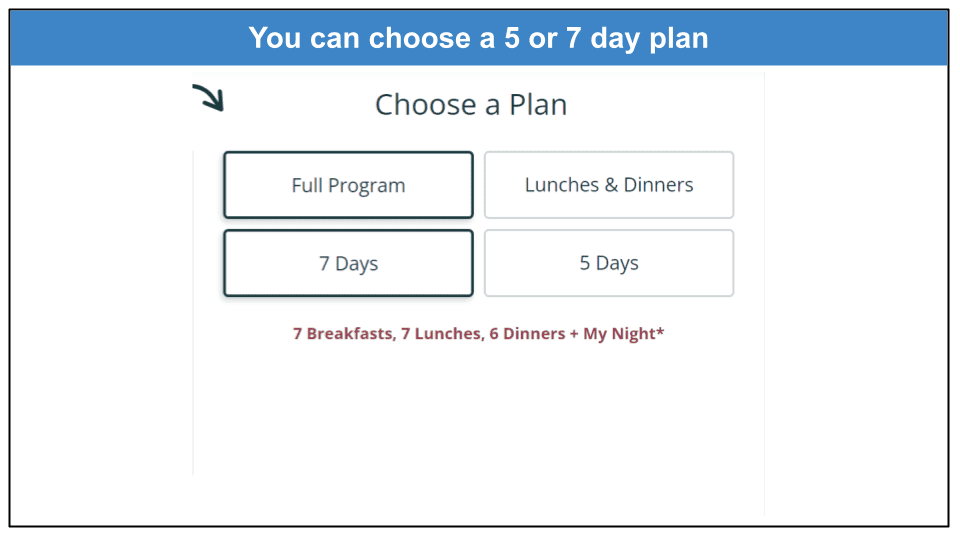 Overall, BistroMD's plans tend to be slightly more expensive than Freshly's, but BistroMD does offer the additional support of access to dietitians. However, Freshly's pricing may be more affordable for those who want more flexibility in the number of meals they receive per week.
All BistroMD orders incur a shipping fee of $19.95 a week, and Freshly's shipping fee varies depending on the size of your order and your delivery location. Although you can expect to pay between $6.99 to $11.99 per order.
Features Comparison: Freshly vs. BistroMD
| | | |
| --- | --- | --- |
| | Freshly | |
| Best for | Prepared healthy meals on a budget | Prepared meals for healthy weight loss |
| Starting price | $6.90 per serving | $8.24 per serving |
| Shipping cost | $6.99 to $11.99 per week | $19.95 |
| Minimum order | 4 meals per week | Lunch and dinner for 5 days |
| Menu variety | 35+ choices | 150+ choices plus snacks |
| Prep time | 3 minutes | 6 minutes |
| Low-prep options | Microwave-ready | Microwave-ready |
| Allergies catered to | Common allergens and certified gluten-free options | Common allergens and gluten-free plan (not certified) |
| Special diets | Gluten-free, dairy-free, soy-free, low-sodium, low-calorie, low-carb, high-protein, plant-based | Diabetes-friendly, heart-friendly, gluten-free, menopause-specific, gender-specific |
| Customer support | Phone, email, live chat | Phone, email |
| Promotions | | |