Medifast vs. BistroMD 2023: Which Is Best for Weight Loss?
So, you want to lose weight and you're undecided between Medifast and BistroMD. Nothing to fear. Let's walk through the two companies. I'll do a head-to-head comparison and give you all the goods.
The Medifast/Optavia company offers an innovative doctor-designed weight loss system that focuses on multiple facets of an individual to help them change their lifestyle. BistroMD also has a doctor-designed system geared specifically for weight loss.
In the final analysis, the nod goes to BistroMD, but not for the usual reasons. In terms of the product offerings, I found both sites comparable, but … I found the Medifast website confusing and difficult to navigate. Its shipping/delivery system was less than stellar. And … well, read on.
At a Glance: Who Won Each Category?
Winner: Tie
The first category in this match-up turned out to be a tie. Both companies offered similar numbers of menu options and programs. Although the methods of the programs used by each company differed significantly, the number of total program options per menu was comparable. As a result, I didn't feel comfortable giving the nod to one company over the other in this first category.
BistroMD offers typical meal delivery service plans. These include the Signature Plan, Gluten-Free, Hearty Healthy, Diabetic, Keto Flex, and Menopause. The last of these stands out to me because I've never encountered another company that offers such a plan.
Medifast is somewhat different. Its service goes under the Optavia brand name. The company offers four different programs: the 5 & 1 program, the 4 & 2 &1 program, the 3 & 3 program, and the Lean and Green program.
The dishes in each Medifast program can be further refined with the filter to parse out meals that are Kosher Dairy, Kosher Parve, Gluten-Free, Vegetarian-Friendly, or free of one of a multitude of different allergens. Of these, I don't think I've encountered kosher plans in any other meal delivery service.
As a general rule, the Medifast meals aren't flash-frozen. The few meals that do require preparation are usually quickly prepared from a few shelf-stable ingredients before being heated in a microwave. BistroMD, on the other hand, pre-preps your meal for you and then flash-freezes it for shipment.
BistroMD offers both 5-day programs and 7-day programs. That is, you stay on the diet for five days out of the week or seven, depending upon whatever choice you make. All BistroMD meals can be cooked in the microwave or oven. The choice is up to you!
Alternatively, although Medifast has a powerful filter that can let you sort through meals according to a very large number of factors, it doesn't offer any special kits.
At BistroMD, I examined a large portion of the lunch/dinner menu and found that the bulk of the menu is pretty basic American cuisines (15 of 24) with the other meals being Italian, Mexican, and Mediterranean (three each respectively). That's enough to give you a decent sampling.
In contrast, Medifast offers mostly American cuisine for its meals. However, most of its products (called Fuelings) usually consist of meal replacement items like shakes, fruit bars, and similar items. A really nice feature of Medifast is that all its Fuelings are, basically, interchangeable as far as nutrition stats are concerned. This makes dieting with Medifast fairly easy.
BistroMD offers over 45 different types of snacks from cheesecakes to cookies to shakes. In contrast, Medifast offers four different snacks in its official "snacks" category. However, in addition to snacks, Medifast also offers categories like bars (15 items), desserts (7), drinks (2), and more.
BistroMD offers large portions, but its meals are designed with weight loss in mind. As a result, it really isn't geared toward children. BistroMD doesn't offer family-sized meals nor does it offer family-sized programs. The company feels that catering to that niche would be damaging to the effectiveness of the company's stated goal: weight loss.
Having said that, BistroMD would allow each individual member of a family to sign up with his/her own account and tailor it to their own respective needs. To that end, the company offers a 15% family/couple discount following the first-week discount. You can contact Customer Service for more information if you're interested.
Medifast offers two programs geared towards teens aged 13 to 17, but nothing for younger children. It, like BistroMD, is really a meal delivery service with a specific dietary goal – weight loss. As a result, catering to the family niche is, most likely, counterproductive to the company's business model.
Again, having said that, Medifast does offer a few meals that sound like they might serve a child in a pinch. These include: Beef Stew, Turkey Meatball Marinara, and Chicken with Rice and Vegetables. However, in the FAQs, Medifast specifically says that its meals should not be given to children under the age of 13 (or pregnant women, for that matter).
Winner: Tie
This category is also a tie. While BistroMD provides far more meals than Medifast allowing you to pick and choose as needed, Medifast has a powerful far-reaching filter that lets you customize your meal plan quite effectively. With respect to the other factors in this category, the two companies are comparable.
Although BistroMD, like many other meal delivery services, allows you to pick and choose your own individual meals for your plan, it doesn't allow customization of the individual meal itself. Each meal is specifically designed with a particular nutritional scheme in mind. Allowing casual alteration of the ingredients of a particular meal would wreak havoc on its nutritional goals.
Medifast is the same in this regard. All the meals are designed as Fuelings that are nutritionally interchangeable with the other Fuelings. In that way, you can swap out one Fueling for another, but if you were able to change the particular ingredients of any particular meal that would throw the whole system out of whack.
Of course, both companies do provide a list of ingredients for every meal that you can view before ordering on each respective website. You simply have to click each meal's corresponding picture and then click the appropriate Ingredients tab. It's quite simple.
As noted above, BistroMD has the following predetermined dietary preferences: Signature, Gluten-free, Keto Flex, Diabetic, Heart Healthy, and Menopause. However, with 150 menu options, and the ability to select your own menu choices, most people should be able to tailor their final menu to almost any dietary preference they can imagine.
In contrast, Medifast is targeted almost entirely as a weight loss plan. In light of that, the company specifically states that its meals aren't designed to treat any specific medical conditions like diabetes, for example. It also recommends that you consult your healthcare provider before starting Medifast's (or any other company's) weight loss program.
Having said that, the Medifast/Optavia site uses powerful filters that'll allow you to swap out Fuelings to your heart's content. You may be able to construct a menu around a specific preference, but you must be aware that the company doesn't officially "endorse" such a dietary preference.
Which brings me to the next topic: allergens.
BistroMD allows you to exclude the following specific ingredients from its meals: onion, garlic, tomatoes, dairy, soy, egg, and gluten. However, there are some caveats that the FAQ addresses. But the general gist is that, since the meals are prepared, if you must exclude say, tomatoes, no meal featuring tomatoes is available.
For example, BistroMD meals are prepared with soybean oil as a spray coating on the pans used. Eggs are present in most of the breakfast options. There are other stipulations regarding onion, garlic, tomatoes, and the other ingredients in the FAQ which you should read if any of those ingredients provide a serious health risk to you. Basically, most of those items are really a "soft" exclude as opposed to a complete absolute exclude.
Medifast is a bit more firm in its allergen recommendations. Basically, Medifast says not to consume any one of its meals if you're allergic to any one of that meal's ingredients. The ingredients can be found on the Optavia website or on the physical packaging of the meal itself.
One of BistroMD's initial dietary preferences is Gluten-Free. BistroMD states that it has USDA and FDA compliant allergen control programs to make sure other common allergens don't make it into BistroMD products without being declared.
Beyond that, you're required to self-sort the individual meals through inspection. If you need help or have other specific concerns, you'll have to contact Customer Service.
Medifast's filter can sort based on four different selections: Category, Flavor Profiles, Product Benefits, and Special Diets. The last of these, "Special Diets," contains a number of common allergens.
However, the category doesn't mention the term "allergen" and, elsewhere on the site the company warns you not to consume products containing ingredients you're allergic to. So, for safety's sake, I would stipulate that you should only sort out those ingredients as a preference.
If you have a serious medical condition, you should either examine the ingredient list of every meal you consume or, perhaps, find a different meal delivery service that better caters to your needs.
BistroMD offers six different menus, but, with the exception of Gluten-Free, none of those menus are ingredient based. However, with 150 meals a week to choose from, you shouldn't have too much difficulty constructing a plan tailored to your own preferences. You just have to put in the work yourself.
Medifast, in contrast, designed meal plans based on differing goals/strategies for weight loss as opposed to dietary preference. Its 3 & 3 plan, for example, is designed for weight maintenance, while its 5 & 1 plan is designed for gentle but efficient fat burning.
However, it does use a good filter that can filter based on a lot of options including vegetarian, no fish, and kosher.
Ordering, Delivery, Unboxing
Winner: BistroMD
BistroMD wins this category because it wins all three subcategories. Compared to Medifast, the BistroMD website and ordering process were far easier to navigate, understand, and use. Although Medifast delivered to a larger area, BistroMD makes up that difference because its delivery time is significantly shorter.
Lastly, in the Unboxing subcategory, while both companies offer comparable services in terms of product organization and shipment, BistroMD provides far clearer instructions regarding the recyclability of its products and its environmental concerns.
Ordering on the BistroMD site was fairly simple and straightforward. You select your program, choose your plan, create your account, select snacks, and then checkout and provide payment. It followed a coherent, logical flow.
BistroMD does have a minimum order, though. This is, basically, the 5-Day Lunches and Dinner Plan. The price may vary depending on your gender. In contrast, Medifast allows you to pick and choose individual items and, basically, shop a la carte. However, it does have other drawbacks.
The Medifast site wasn't nearly as simple as BistroMD's. In fact, I found it confusing. Its simplicity depended upon the path you took. Perhaps it's just me and I'm just used to following a fairly linear path to get to the order menu.
But Medifast has different pages for different menus and a separate page for all items together. For example, I found the "Shop All" page early on, then moved away from it. When I tried to find it again, it took several minutes of searching. And I found that annoying.
I just truly feel that the Medifast/Optavia site could be better organized.
BistroMD also clearly defines in its FAQ how to change the shipping address under your account. You must give the company a week's notice and make the change by contacting Customer Service.
Medifast, however, excels here. The company has a FAQ designated to answer this specific question under the Manage My Account section. It gives you a clear 5-step procedure to follow for a website account as well as a 6-step procedure for the smartphone App.
BistroMD delivers to the contiguous continental U.S. That is, it delivers to the entire United States except for Hawaii and Alaska (and all the U.S. territories). It can take as many as six days for your order to get to your address. However, most orders arrive 2-3 days after shipping. Rest assured, all orders are packed with dry ice to ensure that they stay cold.
In contrast, Medifast orders shipped to the contiguous continental U.S. take as much as 5-8 days to deliver. Orders to Hawaii, Alaska, military sites, or any U.S. territories take 10 to 15 days to arrive.
BistroMD uses FedEx to ship its orders. When the order ships, a tracking number will be sent to your email. You'll also get a phone call provided you signed up for that service. If any difficulties present themselves, you're encouraged to contact Customer Service.
In addition to a tracking number, Medifast also offers an App to assist you in managing your account and deliveries. Both of which, come in pretty handy.
BistroMD flash freezes its food. As a result, your box will contain your chosen frozen meals kept cool by dry ice. Additionally, inside the box, you should find meal sleeves, Ziploc bags, plastic, an insulated liner, a welcome guide and menu, cardboard partitions, plastic bubble wrap, and plastic meal trays.
Because BistroMD flash freezes its meals, all ingredients are pre-prepped and part of the meal. In other words, there are virtually no ingredients for you to organize or worry about organizing. Just pop the meal in a microwave and you're good to go.
The BistroMD site specifies that meals should be placed in your freezer as soon as they arrive at your door. In contrast, Medifast merely suggests you keep its food in a cool, dry place – as it's not frozen and isn't at as high a risk of spoiling.
Medifast, as a general rule, ships shelf-stable products that simply need to be stored in a cool, dry space.
Medifast boxes most of its ingredients. They're clearly labeled and well-organized. Some meals are shipped in microwavable packages – and those are easily organized as well.
According to BistroMD, most of the meals will take a couple of days to thaw if placed in a refrigerator. From there, the meals should remain safe to eat for another two or three days just like they would if they were leftovers.
As Medifast meals are not typically frozen, most of the time they can be stored in your cupboard. Prep is, also, usually relatively easy.
As far as environmental concerns go, BistroMD is committed to the health of the planet and the environment. The cooler in which your meals travel is 100% recyclable. It's made from post-consumer and post-industrial materials. The box, meal sleeves, bags, plastic trays, and such can all be recycled.
At the time of this writing, I couldn't find much information from Medifast about recycling and environmental concerns – other than the obvious recycling of cardboard and paper products.
Winner: BistroMD
For this category, BistroMD gets the nod.
Meals at BistroMD come fully prepared and cooked. They're flash-frozen and sealed before shipment. This includes sauces and everything else, so there's virtually no prep on your part. The meals should arrive at your house frozen so they can be stored in the freezer. From there, the meals simply need to be microwaved (or cooked in the oven) before being eaten. You can either heat the meals straight from the freezer or thaw them out overnight in the fridge and then heat (instructions are on the sleeve). Thawed meals must be eaten within 48 hours.
Alternatively, a frozen meal could be placed in a regular refrigerator. It would take a few days to thaw and would remain safe for consumption for another two or three days. Basically, the thawed meals have the life expectancy of leftovers.
Many of Medifast's meals and other products, on the other hand, require a little bit of prep work, although there's a significant number that are shelf-stable. Some can be microwaved, others can be eaten as is, and still, others require that you prepare them yourself by following the appropriate recipe available online or that came with the food.
Although all of BistroMD's meals are frozen and microwavable, BistroMD does offer a number of snacks. Many of these are bars and similar treats that are shelf-stable in the cupboard, or shakes and such which are ready for consumption once they're removed from the fridge.
In contrast, most Medifast meals are either shelf-stable in their own right or are simply mixed together from ingredients that are predominantly shelf-stable. Most of the recipes require only a microwave, although one or two offered instructions for use with regular ovens in addition to the microwave instructions.
All BistroMD meals come in oven-safe/microwave-safe containers that'll hold up in temperatures as high as 400 degrees Fahrenheit. In contrast, most of Medifast's meals require preparation and mixing in a microwave-safe bowl that you must provide. There are a rare few, though, that come pre-prepped and can simply be microwaved in the microwave-safe container they arrive in.
Customer Support
Winner: BistroMD
This category probably would've been a tie except for one substantial issue. In terms of avenues of contacting each company, the promptness with which each company replied, and the ease of cancellation both companies were roughly equal.
However, I found the Medifast/Optavia website to be incredibly confusing. Maybe it was the fact that there were two websites instead of one, but I just found the design poor because it was easy to get confused while trying to navigate the site. And I would classify the site's ease of use (or difficulty) under the banner of Customer Support because I don't know where else it would fall.
Given the above, the nod in this category goes to BistroMD.
BistroMD is fairly easy to get a hold of, but it only offers a telephone number and an email option on the site. There's no live chat option or AI-controlled chatbots – both of which are my preferred methods of contacting Customer Service Departments.
Medifast, pretty much, does the same thing. It only offers an online email form and a phone number. Although such options are easy to use, I still prefer sites that use live chat and chat bots. I find such sites far more convenient.
Of course, given the above information, I had to test each of the company's respective Customer Service Departments. So, I sent an email to each one.
I sent my inquiry to BistroMD on a Friday and I received my reply on Monday. Three days. Considering there was a weekend involved, that's not too bad.
BistroMD Email Reply
I did the same for Medifast/Optavia. I sent an inquiry on Monday, September 20th, and got a reply the following day – which, when you take into account the weekend, is comparable to the response time of BistroMD.
The last metric in this category is cancellation. BistroMD provides an FAQ page that addresses this point exactly. It's under the MyBiistroMD Subscription FAQ. The process is pretty simple:
Log into your mybistroMD account

Locate the My Account menu option near the top of the navigation bar

Then click Update Plan

Scroll down to the Click Here link for canceling your subscription

Provide feedback as desired

Finalize the process by clicking Cancel Program
And you're done! The deadline for canceling is Wednesday at 5 pm EST for the following week.
The Medifast/Optavia process is also pretty straightforward. Initially, though, I was a little confused. I thought there was a normal subscription and then an upgrade called the Premier plan. As it turns out, the standard plan is the Premier plan.
Canceling your Premier plan subscription is detailed in the FAQ under Shipping and Ordering. The FAQ provides instructions for both the App and the online account. For the online account:
Go to the My Account Page

Scroll down to the My Optavia Premier section

Click the link labeled Cancel Premier Membership

Click Cancel Membership in the confirmation window
And you're done! You can accomplish the same goal with the Optavia App:
Go to the main Account page

Click the link labeled Manage Premier in the information tile labeled Your Next Premier Order

Scroll down the Manage Premier page to the link labeled Cancel Optavia Premier Membership

Click Cancel Premier on the confirmation window
And you're done. See? No matter which way you do it, or for which company you do it, canceling your subscription is really pretty simple.
Pricing
Winner: Tie
This category is actually a difficult one to get a handle on. Although you can directly compare initial prices as: $8.24 per serving for BistroMD and Price: Missing Product medifast per serving for Medifast, that doesn't really tell the whole story.
This is because of the way Medifast products are designed. The company has a whole line of products called Fuelings which, for all intents and purposes, are nutritionally equivalent and can be swapped out with remarkable ease.
As a result, you have meals that can be swapped out with Meal Replacements – like a shake or a bar – and then you have snacks. Both companies offer snacks for comparable prices. The problem, though, is that the Medifast system is designed to build meal plans with variable numbers of meals.
While BistroMD may provide you with a breakfast meal, a lunch meal, and a dinner meal (three whole meals) plus snacks, Medifast has a 5 & 1 program that consists of five small meals and one snack. So, if you compare a small meal from Medifast with, say, even just breakfast from BistroMD, you aren't comparing apples to apples.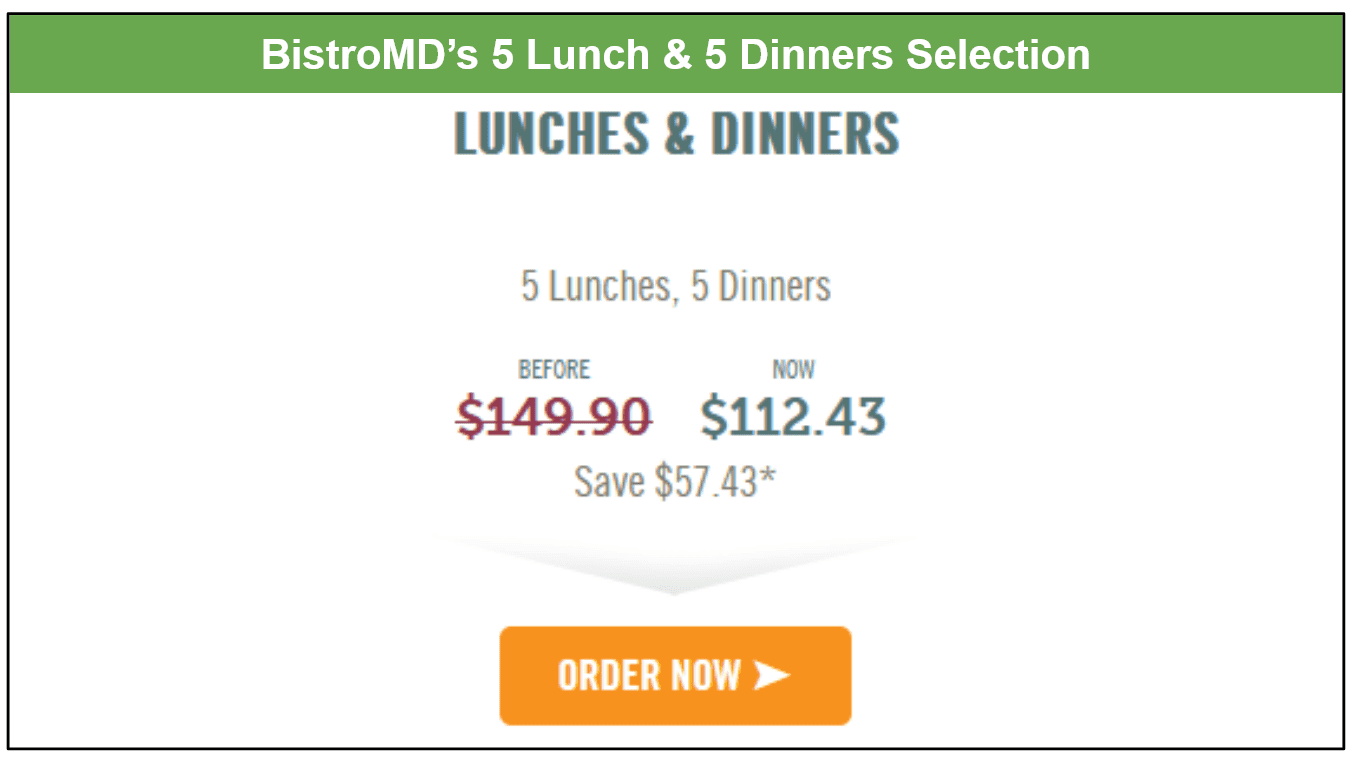 By its very nature, the Medifast meal will be smaller and (likely cost less) than the BistroMD meal. But that's because you eat FIVE of those meals over the course of a day, not a mere three. So, getting an apples-to-apples price comparison doesn't seem really feasible here.
So, with that in mind, I'm calling this category a tie because I can't figure out the appropriate metric to score it by. However, with that note, I will offer the following comments on prices at the two sites:
On Medifast, the lowest-priced meal item (a single Fueling) worked out to $2.96 per serving from the Optimal Health 3 & 3 program. The lowest-priced snack was $1.61 per serving which was the Sharp Cheddar and Sour Cream Popcorn or any other snack in its category.
On BistroMD, the lowest priced meal item is $8.24 per serving. The lowest-priced snack is about $2.00 per serving – which is a little more than Medifast.
At the current time, at Medifast, shipping for orders above $250 is free on the first and subsequent orders and only $5 on the second and subsequent orders that are between $150 and $250.
The standard shipping rate on BistroMD is $19.95. However, on www.silvercuisine.com, a subsidiary site and program of BistroMD, you can order whatever you want, whenever you want without a subscription of any sort. This site ships orders costing more than $99.00 for free.
Features Comparison: Medifast vs. BistroMD
| | | |
| --- | --- | --- |
| | | |
| Best for | Nursing Mothers, Teen Boys, Teen Girls, Diabetics, Seniors, People with Gout | Gluten Free, Heart Healthy, Keto Flex, Menopause, Diabetics |
| Starting price | Price: Missing Product medifast/serving | $8.24/serving |
| Shipping cost | Free for orders > $250 | $19.95 |
| Minimum order | $1.00 a la carte item | 5 meal plan, (5 lunches & dinners) |
| Menu variety | 90 choices per week | 132 choices per week |
| Prep time | Approx. 10 minutes or less w/ microwave | <5 minutes |
| Low-prep options | Microwave-ready, shelf stable | Microwave-ready |
| Allergies catered to | Fish, shellfish, caffeine, tree nuts, peanuts, wheat, egg, gluten, whey, soy, milk | Dairy, eggs, soy, gluten with limitations on all (see the BistroMD FAQ for further details) |
| Special diets | Vegetarian, kosher, heart healthy, diabetic, gout, seniors, nursing mothers, teens | Gluten Free, Heart Healthy, Keto Flex, Menopause, Diabetics |
| Customer support | Website email form only | Email and phone |
| Promotions | | |
And The Winner Is: BistroMD
The winner of this head-to-head comparison is BistroMD. Although Medifast is an impressive company with intriguing innovations (I particularly liked the concept of Fuelings), I just found that the site was difficult to navigate and BistroMD's was pretty straightforward.
Check out BistroMD's offerings to see for yourself.
Furthermore, BistroMD also excelled in the ordering and delivering category, as well as the crucial meal prep category. While Medifast offers a large number of low-prep items, virtually all meals at BistroMD are ready-to-eat. It doesn't get better than that!
FAQ
Are BistroMD meals frozen?
Yes they are. BistroMD meals are flash frozen to seal in nutrients and enhance the integrity of the overall meal. The meals are pre-prepped in microwave-friendly containers so that all you have to do is heat and eat. It takes very little effort, very little time, and requires almost no cleanup. What more can you ask for?
Is BistroMD healthy?
BistroMD provides healthy food and is a meal delivery service designed specifically for weight loss. If that isn't your goal, you might want to look elsewhere. If it is your goal, BistroMD is a pretty good choice. The company even caters to several different health preferences. These include: diabetes, gluten-free, heart healthy, and menopause.
If you have to deal with one of those issues that makes BistroMD an even better selection.
Are Medifast and Optavia the same?
Medifast and Optavia aren't the same. Optavia is, basically, a subsidiary of Medifast. Medifast is the umbrella company that includes Optavia. From what I could gather in my research, Medifast was kind of the business structure that supports Optavia.
If you're going the Medifast/Optavia route for the sake of weight loss, you'll likely be dealing more with Optavia than with Medifast – as it's the site with the meals, the programs, and the access to the coaches.